The ultimate marine sports can be enjoyed all year round in the emerald green sea.
Experience the exclusive resort style at Renaissance Okinawa Resort, a relaxation paradise of mind and body.
Topics
Enjoy seasonal pasta recommendations and a variety of over 30 kinds of sweets in a buffet-style lunch at a restaurant overlooking the emerald green sea.

While easefully gazing at the beach, enjoy a variety of cuisine and sweets of Okinawa, Southeast Asia, the Americas, China, Korea and other countries along the Pacific Rim.

Celebrate birthdays, wedding anniversaries and special occasions of precious ones at Renaissance.
Dinner plans and surprises with cakes or flowers are available.
Banquet & Conference
A variety of theme parties and meetings with delightful arrangements featuring Okinawa style to meet diverse demands.

Wedding
A romantic ceremony at the white Ribera Church overlooking the blue sea and a resort wedding party produced and presented in a distinctively Renaissance style.

Facilities
Beach, Dolphin Lagoon, Outdoor Pool, Indoor Pool, Fitness Gym, 7 Restaurants, Bar & Lounge, YAMADA Onsen, 5 Shops, Thalassotherapie Salon, Ribera Church, Nail Salon, Function Rooms.

Guest Services
Free Wi-Fi Connection Service, In-room-dining, Laundry Service, Business Support, DPE Desk, Rent-a-Car Desk.

Sightseeing Spots
Ryukyu-Mura, Onna Village Museum, Manzamo, Bios on the Hill, Yomitan Yachimun-no-Sato, Southeast Botanical Gardens, Okinawa Chura-Umi Aquarium, Shuri Castle Park.

Our resort hotel is situated on the south end of the west coast resort area in Onna Village, on Okinawa main island. 50 minutes by car from Naha international Airport, 5 minutes from Ishikawa IC of the Okinawa Expressway.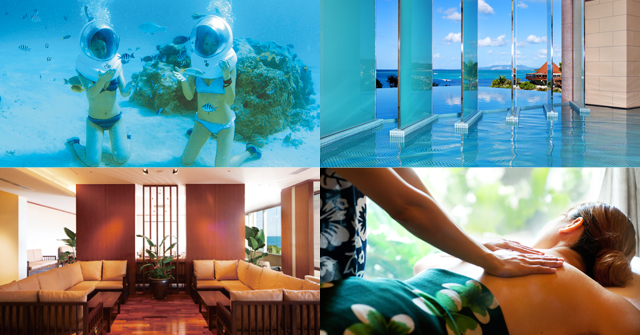 We welcome our long-term guests
with premium services and exclusive benefits.
*Guests staying over 3 or 4 consecutive nights
can enjoy exclusive services such as a Free Lunch
Buffet, Special prices of Marine Menu and lounge
service upon presenting the "Club Savvy"
membership card.
*Some travel agency and internet plans are excluded; please check in advance.
*Club Savvy Card will be given at check-in.